Metal
SILVER SLIVERS OF LIGHT- REFLECTION MOVEMENT TRANSFORMATION
ALLUMINATA - celtic Stela
From my Celtic Stela series from 1995 onward, Aluminata is a new direction of my work. Created in aluminum the idea was if I could go within the stone, releasing the light. How would I create this? Journeying through the language of hieroglyphic from story encompassing water - flow celestial - sun, moon, the seasons and connection. Using light source within- The glinting shimmer in the slivers during the day, the towering monolithic expression set in the landscape or inside . It can also have a solar light which illuminates in the evening. Or if Inside, with a custom light source, it becomes a shadow thrower, with movement, it dances. It has many personalities. I will be showing more in the next couple of months when I complete them An indoor outdoor piece has many dynamic dimensions.
aluminium, granite, bronze 5"
VERTICAL WATER SERIES -INTO THE BEYOND 10'x5'
INTO THE BEYOND, created in polished Steel and Corten- Inspired by the Chinese moon window, Alice Through the Looking Glass, it represents a portal, the window into the landscape, a reverie. Using highly polished stainless steel, whether placed inside or outside, INTO THE BEYOND has a dynamic movement within the space it resides in, providing a focal point, a dreaming moment. Shown here ten feet high, also made in different sizes to scale. This piece can be custom anodized in different colors depending on where it will be placed. It can be created as small as a ring size, which I wear every day silver on my left hand, gold on my right. My main inspiration for this came after I was given a gift from Peru of a beautiful 3 stoned aqua marine and lapis lazuli pendant. The middle stone fell out into my hand. I was at once struck by how important a void is. The empty space gives context and perspective to what is around it. The reflective qualities of polished steel surround a void creating a portal and mirroring the movement around and within us.
In the Beyond - vertical water series - the two photos above- I have created a number of these in different colors- in private collections in Philadelphia, New Orleans and San Diego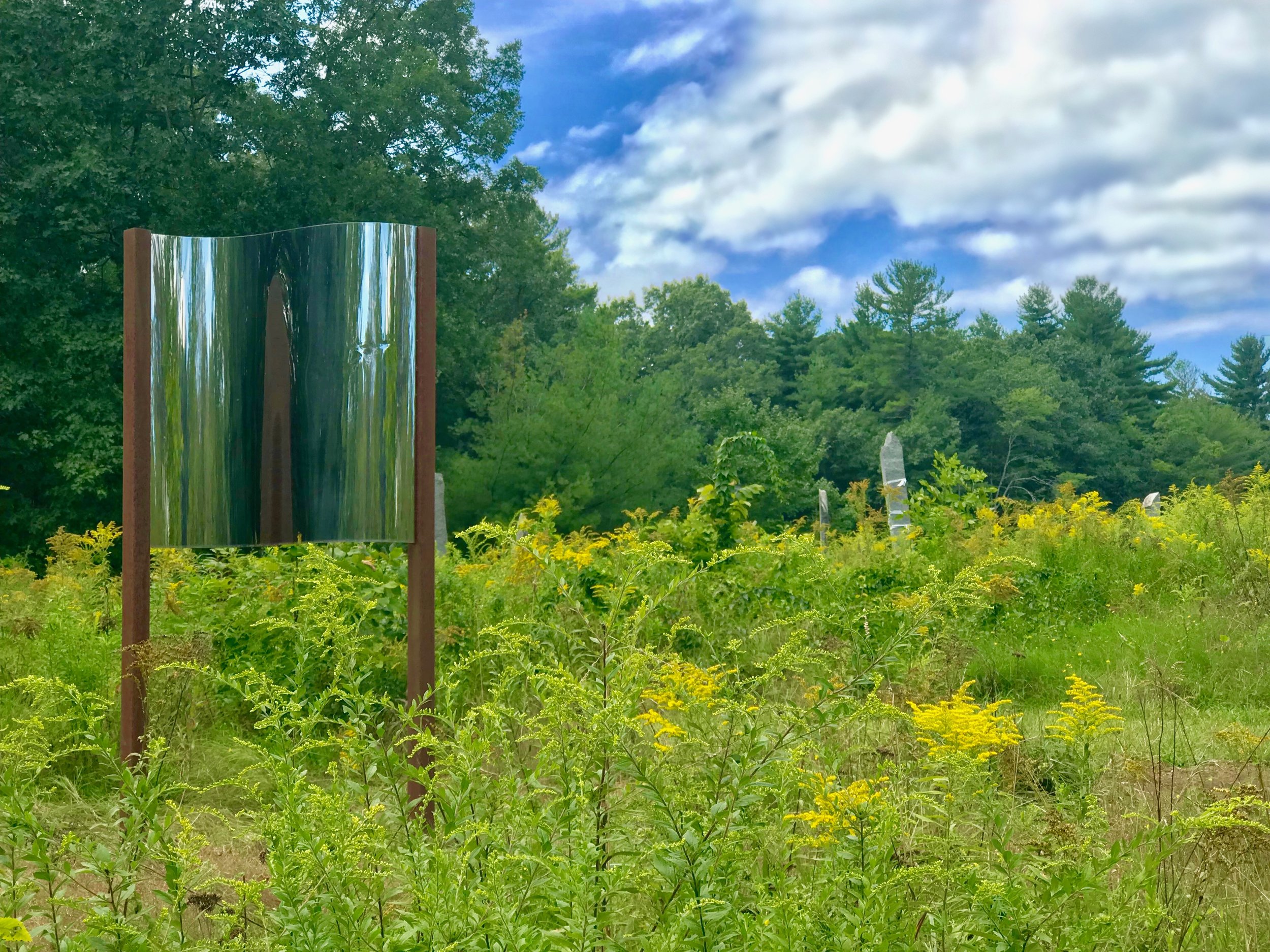 Ogee -Vertical Water- cortex & polished steel 10' in the meadow at Old Frog Pond Farm Sculpture walk Harvard MA 2018/2019